June 2020 Minutes (29th)
Minutes of the of Dunston Parish Council Meeting held on Monday 29th June at 7.30pm via Zoom.
PRESENT: P.Cllrs R.McLuckie (RM) (Chair), P.Moore (Vice Chair) L.Phillipson (LP), D.Cllr. N.Byatt (NB), D.Cllr. L.Pearson (LPe) & Clerk L.Stocker (LS)(Minutes)
APOLOGIES: C.Cllr. R.Kendrick & P.Cllr. K.Atkin.
DECLARATION OF INTEREST: None.
ACCEPTANCE OF MINUTES: The minutes were held to be a true and accurate record.
REPORTS:
PARISH COUNCILLOR Nick Byatt:
Most NKDC staff are home working until 2021, but services are back to normal.
Successful applications for discretionary grants will be confirmed by 1st July.
Lockdown has cost NKDC around £2 million.
Free advice is being offered to small businesses owners in the area.
Car parking charges will be reinstated from 1st July.
PARISH COUNCILLOR Laura Pearson:
Any COVID (C19) cases with be dealt with by the newly appointed Outbreak Board.
Anti-Social Behaviour has increased by 72% (approx. 36% due to C19 breaches).
Fly-tipping has increased by 45%. Please report any suspicious activity to NKDC.
The Lincolnshire Resilience Forum are still assisting anyone needing support.
POLICING:
The Playing Field gate is being locked/unlocked following reports of vehicles gathering in the car park after nightfall. The police have been made aware.
CHIPS (Churches Helping in Particular Situations):
Around 90 requests for help have been received from approx.. 20 people.
The need for assistance has declined significantly.
An event to celebrate the success of the scheme during Lockdown is planned.

VILLAGE HALL
The VH Manager is reorganising practices & processes post C19.
VH hirers have been contacted to establish their plans: some groups are moving back to Nocton, most have cancelled until September.
C19 has impacted upon finances with a loss of £1,617 to date. This expected to increase to £2695 by the end of August.
A non-repayable £10,000 grant has been received from the government to help cover these costs.

ENVIRONMENT:
Intermediary work to protect the trees on the overgrown verge by the Beck was carried out by DPC Cllrs.
This area has now been maintained by LCC contractors.
Establish the cost of including this on the DPC maintenance contract.
Action: LS
A hedge outside a property bordering The Green was reported as being overgrown/encroaching on the footpath. Investigate & address accordingly.
Action: RM
Ensure that the brambles near the playing field entrance are maintained.
Action: LS
FINANCES (as of 29th June):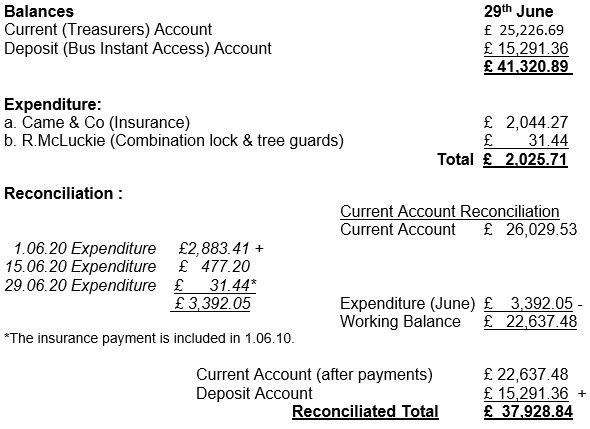 Reconciliated Total £ 37,928.84
The Parish Council also curate an account holding funds allocated to preservation work on behalf of the Trout Project. The current balance is £9,300.45.

15. DATE OF NEXT MEETING:
Monday 29th June 2020 at 7.30pm via zoom.
The meeting closed at 8.10pm.