June 2020 Minutes (1st)
Minutes of the of Dunston Parish Council Meeting held on Monday 1st June at 7.30pm via Zoom.
PRESENT: P.Cllrs R.McLuckie (RM) (Chair), P.Moore (PM) (Vice Chair), L.Phillipson (LP), D. Cllr.N.Byatt (NB), D.Cllr.L Pearson & Clerk L.Stocker (LS)(Minutes)

The details of this meeting were shared on the parish webpage and noticeboard as usual.
APOLOGIES: C.Cllr. R. Kendrick, K.Atken & E.Vinter.
DECLARATION OF INTEREST: None.
ACCEPTANCE OF MINUTES: The minutes for the meeting held on Monday 18th May were amended to include K.Atken as present, before being unanimously held to be a true and accurate record.
ZOOM SUBSCRIPTION: Improved access to Zoom has been organised LS to liaise with RM to utilise this facility at the next meeting.
REPORTS:
COUNTY COUNCILLOR Rob Kendrick:
RK has requested that his monthly report be utilized at meetings where he is unable to attend in person.
The reopened Household Waste Recycling Centres have been busy. The booking system has worked well. Services have been extended to include the collection of non-garden waste. To book an appointment call 01522 782 070 or visit www.lincolnshire.gov.uk/clickandtip.
The Community Maintenance Fund has been utilised to employ Highways Community Works Gangs to carry out repairs. They will deal with anything already reported, and as they will also spend around 3 weeks in each area on a 'find and fix' basis. All Councillors were asked to highlight any areas of concern. (Work in the Dunston area is expected around March 2021).
DISTRICT COUNCILLOR Nick Byatt:
The Licensing Team are operational and have received a number of requests to help accommodate social distancing requirements.
The Planning team are returning to the office and will be resuming standard notification and consultation practices.
NKDC have received £104,000 from the High Street Recovery Fund to introduce measures to assist the safe reopening of local businesses.
£1 million discretionary fund is available to offer assistance to small businesses, particularly those which were ineligible previously. Applications close on Monday 15th June 2020.
NKDC have been able to contact over 11,000 households through the Wellbeing project. This has resulted in assistance being provided to over 4,745 people in the over 70, isolated or vulnerable category.
DISTRICT COUNCILLOR Laura Pearson:
LPe detailed the Road Resurfacing taking place in the region.
News NK will be delivered in the next week.
Action: ALL
ISSUES:
HIGHWAYS:
Road Closure 15-16th June 2020: A section of Lincoln Road will be closed overnight (23.00 – 06.00hrs) at the Railway Bridge whist a structural examination is undertaken.
LCC contractors have begun a three month programme of surface dressing in order to improve roads in the area. From 30th May B1188 Sleaford to Lincoln (Dunston Top to B1202 will operate a convoy system)
A programme of work to improve the B1191 (Martin South Drove) will involve some diversions and may cause some disruption in the surrounding areas. Further information will be shared once work has begun.

PLAYING FIELD:
The playing field has been well used with the tape preventing access to the equipment removed and left to litter the vicinity. This is disappointing and problematic as government restrictions are still in place. After some discussion it was decided to replace the signage clarifying the current situation and hope that members of the public respect the stance taken to protect the public by DPC.

Action: RM
SPEED INDICATOR DEVICE (SID):
The SID has been returned to the Police Panel / Metheringham PC and the relevant parties informed of the decision to leave the cluster group.
ENVIRONMENT:
The Village Keeper's monthly report was shared.
A commitment was made to increase the Village Keeper's salary in line with the National Minimum Wage. Back dated payments will be made accordingly.
Action: RM/LS
Further reports of littering around the 'Splash' (off Prior Lane) have been received. The Police have already been made aware of the issue, but it was felt necessary to consider a more immediate solution. The Village Keeper and a local resident have both suggested the addition of a rubbish bin. Quotes will be sought in order to facilitate this.

Action: LS
INSURANCE:
The information relating to the renewal of the Parish Council's insurance had been previously shared. The matter was discussed with the decision taken to adopt a 1 year policy.
Action: ALL/LS
ZOOM SUBSCRIPTION: Improved access to Zoom has been organised LS to liaise with RM to utilise this facility at the next meeting.
8. PLANNING
Application 20/0576/HOUS Render existing brick external walls of bungalow, Tarshyne Fen Lane Dunston Lincoln Lincolnshire.
There were no objections or comments in relation to this application.
Western Power – Permission has been sought to cut back trees growing close to power lines around the village. No concerns / permission granted.

Action: LS
FOOTPATH ACCESS : Concerns regarding access to the path from the Stepping Out point to Wasps Nest have been raised. NB has already been able to ascertain that NKDC Planning have not received any requests for change of use. Contact LCC Footpaths for further clarification.
Action: LS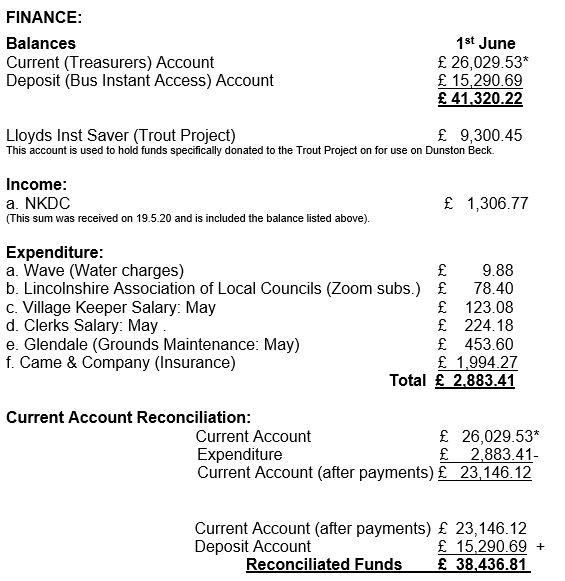 15. DATE OF NEXT MEETING:
Monday 15th June 2020 at 7.30pm via zoom.
The meeting closed at 8.15pm.