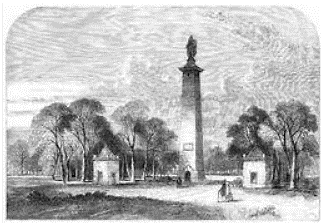 Historical Description
Dunston, a village and a parish in Lincolnshire and district of North Kesteven, on a branch of the river Witham, near Duns Dyke, close to the B1188 between Nocton to the north and Metheringham to the south. It once had a station called Nocton and Dunston on the G.N. & G.E. joint railway, but is now serviced by the station at Metheringham 1.5 miles to the south. It is 8 miles SE by S from Lincoln, with a post office under Lincoln; Metheringham. Acreage, 3372; population, 752.
Much of the land, novi-inclosed and cultivated, was formerly a dismal waste, and a pillar, 92 feet high, close to the public road through it, was erected in 1751 as a landmark. Dunston Pillar is 3 miles (5 km) to the west on the A15. It is a Grade II listed tower and former land lighthouse built by Sir Francis Dashwood to guide travellers across Lincoln Heath.[2] In 1810, at the jubilee of George III, the lantern was removed and replaced with a statue of the king, and in the 1843 Journal of the Agricultural Society it was described as the "only land light-house ever raised". This was reduced to a stump during WW2 for the safety of aircraft from local airfields. The head of the staue was removed to the grounds of Lincoln Castle.
In Domesday the village is written as "Dunestune", meaning 'Dune's farm'.
The parish church is dedicated to St Peter, and is a Grade II listed building dating from the 12th century of stone in the Gothic style. It was restored by R. H. Carpenter between 1874 and 1876. There is also a Methodist chapel.
The Red Lion public house on Middle Street offers accommodationa and food.
Twinned village[edit]